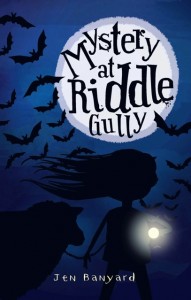 … Banyard writes with insight and humour.
Australian Book Review
… A smart and funny chapter book for kids, Mystery at Riddle Gully will engage any reader. Banyard uses humour and a touch of the spooky to produce an entertaining read that still tackles some of the serious issues most kids have to deal with.
The Herald on Sunday [NZ]
.… Mystery at Riddle Gully is a highly entertaining, well written mini-adventure … It is sustained by credible, likeable, well developed characters who suffer enough misadventures and troubles to keep the reader hooked to the last page. A very enjoyable novel for 9-12 year old boys and girls.
Magpies
… Mystery at Riddle Gully is a really fun read and yet deftly explores some deeper themes around broken families, environmental sustainability and first impressions. Also noteworthy are the fabulous teachers' notes available on the author's website.
writingWA / The West Australian
… Mystery at Riddle Gully is infused with wonderfully non-didactic environmentalism, and handles the characters of both Pollo and Will with sensitivity, warmth and a dash of humour. Set in country Australia, this chapter book is an engaging adventure whose likeable protagonists will appeal to both boys and girls …
Bookseller + Publisher
…Mystery at Riddle Gully is layered and provides a variety of entry points for deeper thinking and exploration without beating people over the head.
Awesome International Arts Festival
… This is a well-written mystery that will easily keep a young reader captivated and entertained …
Reading Time
… Polished and engaging, Mystery at Riddle Gully is a lot of fun to read. Banyard has a gift for writing stories that blend a number of interesting aspects and this book is no exception. It could be used very successfully for an integrated unit of work, examining endangered species, newspaper writing and more, while still remaining a thoroughly good read. Recommended!
IC3, The Professional Journal of the WA School Library Association & AISWALibraries
… Mystery at Riddle Gully has suspense and adventure, and Pollo and Will's mishaps make this a very funny story. Spooky. Highly recommended.
Alphabet Soup
… A fast-paced and funny novel with action, mystery and red herrings … The novel also includes lessons about biodiversity, and themes about not judging people on first appearances. Recommended for boys and girls aged 9 to 14 years.
Brisbane's Child, Canberra's Child